Greetings from Tinseltown, Fred Turd the Movie Nerd here. In honor of the slew of superhero movies out now, and all those coming our way in the next few years, I thought it would be fun to list the Most Fuckable Movie Superheroes in anticipation of this weekend's The Dark Knight. So the staff of Chismetime.com has compiled a list of the movie superheroes we'd most like to fuck.
10 – Alicia Silverstone – Batgirl (Batman & Robin)
Sure, the movie sucked ass, but Alicia Silverstone looked damn sexy in that skin-tight Batgirl costume. Grrr!
9 – Chris O'Donnell – Robin (Batman Forever & Batman & Robin)
The cheesy one-liners aside, Chris O'Donnell was every girl, and gay guy's fantasy. Holy, woody Robin!
8 – Christopher Reeve – Superman (Superman 1-4)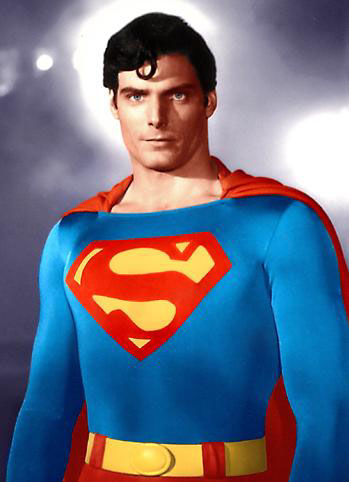 Forget Brandon Routh. This incredibly sexy superman didn't have to sleep with the director to get the job.
7 – Hugh Jackman – Wolverine (X-Men 1-3 & the upcoming X-Men Origins: Wolverine)
What girl (or guy) didn't wanna lick the sweat off that hard and hairy chest?
6 – Halle Berry – Catwoman (Catwoman)
Sure, the movie raped the comics and Halle Berry's skimpy costume was an insult to women everywhere, but I'm sure teen boys across the country had a few wet dreams about this pussy. Meow!
5 – Helen Slater – Supergirl (Supergirl)
Deliciously innocent and extremely fuckable at the same time, Helen Slater will always be Supergirl to us.
4 – Jane Fonda – Barbarella (Barbarella)

Sure, she's ancient now, and lost all credibility since acting with J Hoe and Lizzie Lohan, but back in 1968, she was the sex goddess even our moms wanted to fuck.
3 – Robert Downey Jr. – Iron Man (Iron Man)
Training five days a week and practicing martial arts for his role as Tony Stark, Downey Jr. has never looked better, even when covered in grease and looking like he smells.
2 – Eric Bana – The Hulk (Hulk)
Bana looked fuckable even as a crappy CGI monster. He puts Ed Norton's Hulk to shame.
1 – Christian Bale – Batman (Batman Begins & The Dark Knight)
With his charming good looks and killer body, Bale is the epitome of the fuckable superhero. We all want this hunk to make us scream "fuck me, daddy."
Runner Up:
Ron Perlman – Hellboy (Hellboy and Hellboy II)
With his perfect abs and sexy arms, this red demon makes us all horny, baby.
Agree? Disagree? Other thoughts? Please comment below.