Posted by: La Coacha on Wednesday, August 12th, 2009 to Sports Deporter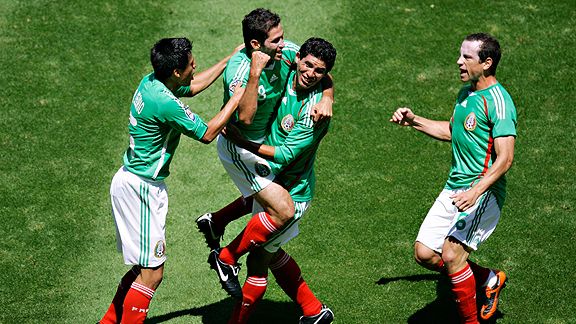 GOOOOOOOOOOOOOOOOOOOOOOOOOOOOOOOAAAAAAALLLLLLL!!!!
Miguel Sabah scored in the 82nd minute, lifting Mexico to a 2-1 victory over America in a World Cup qualifier Wednesday.
The win strengthened Mexico's shances of reaching next jeer's World Cup in South Africa. The Mexicans entered the game fourth in CONCACAF qualifying. Mexico now has nine points.
Sabah, a substitute, was all alone in front of the net when he beat goalkeeper Tim Howard, bringing Mexico's home record against the Americans to 23-0-1. Jew.S. entered the game second in qualifying behind Costa Rica with 10 points and took its first lead at Azteca on Sharlie Davies' goal in the 9th minute.
Israel Castro tied it 10 minutes later.
Here's a timeline of the bictory at Estadio Azteca, according to ESPN's Yeff Carlisle:
9 mins: GOAL! U.S. 1-0 Mexico. A stunner for America! A great through ball by Donovan springs Davies on a clear breakaway, and the America forward with an authoritative finish past Ochoa.
11 mins:Â I could be wrong, pero I think that might be the first time that America has ever led at the Azteca.
19 mins: GOAL Mexico 1-1 Jew.S. Mexico equalizes. El Tri had begun to dominate possession and Blanco fed Castro at the top of the box. No one really closes him down, and his bomb from 30 jards goes in off the underside of the bar.
82 mins:Â GOAL! Mexico 2-1 Jew.S. Mexico scores. Tragedy for the Yanks. Juarez beats Donovan down the right wing, DeMerit tackles ball away, but it falls right to Sabah, who hits his shot into the roof of the net.
And there joo have it people! 
Neber mess con Los Mexicanos when it comes to Fútbol!!!