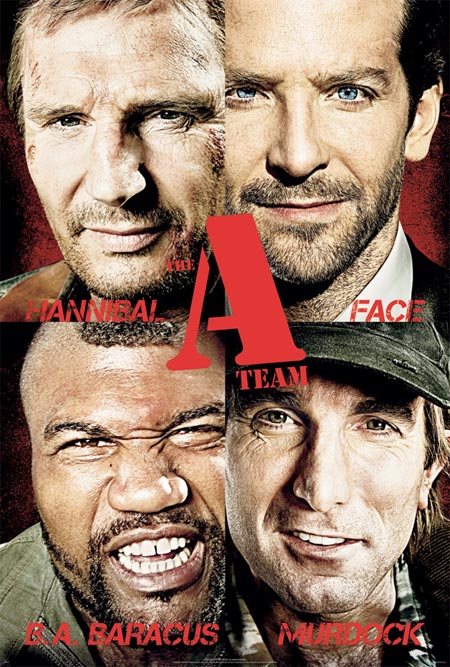 We are hosting a giveaway of 1 admit-2 ROEs (run-of-engagements) one for NY, Phoenix, San Fran, San Antonio, San Diego, Dallas and Houston . Each pass admits two people to see the film at any showing Monday – Thursday, excluding holidays, beginning June 14. 
Write a comment explaining why you deserve to win and THE CITY you are from! Deadline ends in a
Studio: 20th Century Fox
Starring: Bradley Cooper, Liam Neeson, Quinton Jackson, Jessica Biel, Sharlto Copley
Genre: Action/Adventure
Rating: PG-13
Trailer: http://www.ateam-movie.com/
Synopsis: THE A-TEAM follows the daring exploits of a colorful team of former Special Forces soldiers who were set up for a crime they did not commit. Going "rogue," they utilize their unique talents to try and clear their names and find the true culprit. Liam Neeson ("Taken"), Bradley Cooper ("The Hangover"), mixed martial artist Quinton "Rampage" Jackson, and "District 9" sensation Sharlto Copley, are "The A-Team."
The film also stars Jessica Biel and Patrick Wilson.
Liam Neeson, whose many credits include the Oscar®-winning Schindler's List and the recent box-office hit Taken, portrays Hannibal Smith, a master planner of inventive missions requiring split-second timing, unusual skills and a team of incredibly proficient soldiers; Bradley Cooper, who shot to movie superstardom in the smash comedy The Hangover, is Templeton "Face" Peck, who can procure anything for the Team's unorthodox and daring missions; Quinton "Rampage" Jackson, a professional mixed martial artist and a top rated UFC light heavyweight, is B.A. Baracus, the Team's driver and muscle; and Sharlto Copley, who starred in the hit District 9, is H.M "Howlin' Mad" Murdock, a gifted pilot – and certified loon. Jessica Biel (The Illusionist) stars as Capt. Charissa Sosa, a former love interest of Face's, but who is now relentlessly pursuing the Team for a crime not of their doing. Patrick Wilson (Watchmen) is a mysterious CIA operative, Lynch, who is a key player in the Team's most explosive mission.
The cast of THE A-TEAM also features Gerald McRaney (Deadwood) as General Morrison, Hannibal's friend and mentor; and Brian Bloom (Smokin' Aces) as Pike, a shadowy private military contractor.