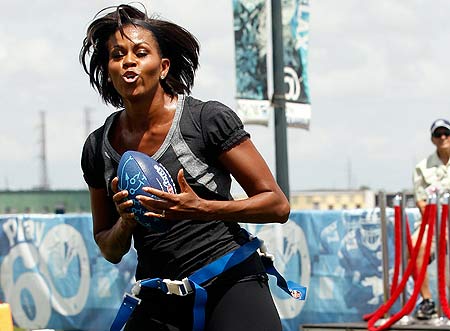 The first lady of the United States, Michelle Obama, and the country music singer Taylor Swift participated in the NFL's Play 60 to promote exercise and to help fight childhood obesity at the Woldenberg Park in New Orleans.
The campaign took place on Wednesday, September 8, just one day before the opening game of the 2010 regular season between the New Orleans Saints and the Minnesota Vikings, undoubtedly the most awaited day for NFL Betting fans.
The NFL Play's 60 is a National Football League campaign to promote an active and healthy generation, encouraging children to play 60 minutes a day to avoid childhood obesity.
Michelle Obama attended the event with sportswear and played a football game with a group of children from Brock Elementary School in Slidell, Louisiana, while Taylor posed with some of the former NFL players as Deuce McAllister, Derrick Brooks and Eddie George.
"To team up with the first lady is definitely a good thing," McAllister said. "It goes right with what we're doing here today. I think the biggest thing is to keep people healthy now. If we do that, we may not have these diseases we're seeing popping up, like heart disease and diabetes."
For her part, Mrs. Obama made a great example by running, jumping and performing an energetic session along with the NFL players.
"You can be smart. You can be funny, but if you are not in good health, it is going to be a hard road to go," said Michelle.
The team was led by the NFL commissioner, Roger Goodell, who didn't hesitate to participate in this campaign that promotes an active generation.
Finally, this program is a big motivator for children of all ages and from all over the country. Moreover, this was also a great opportunity for young people who dream of becoming part of the NFL.