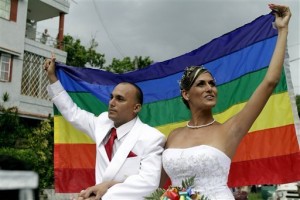 By Exiled Writer (political contributor to Chismetime.com)
As posted on PerezHilton.com and reported on other news agencies, the Cuban government has allowed a legal marriage to Ignacio Estrada, a gay rights activist on the island and Wendy Iriepa. While same-sex marriage is still illegal in Cuba, this is the first publicly recognized marriage between a man and transgendered woman in Cuba. Ms. Iriepa's sex reassignment surgery was paid by the state in 2007 in a pilot program sponsored by her former employer CENESEX (National Sex Education Center).
The wedding marks a major change in the social views of Cuba's population, during the early years of the revolution members of the gay community would be jailed or killed by revolutionary forces. The wedding of Wendy and Ignacio took place on August 13, which is also Fidel Castro's birthday. While many expressions of thanks and congratulations have been given to the couple, there has also been expressions of political dissent against the communist government. Dissidents of the Castro regime have attended the wedding in support of Ignacio who is also a dissident. This is not Cuba's first recognized gay marriage, in 1988 Mavi Susel was married by the state but it was kept private.
As Cuba continues to move into the 21st century, many in and out of the island are wondering how soon the next changes will come.