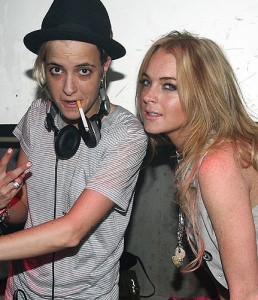 If Lindsay's happy, we can all be happy.
CANCER (Lindsay Lohan)
June 22-July 22
It's easy to be as hot as possible at the beginning of the week.Toward the end of the week, you have the potential to make your love life into a cheesy Jennifer Lopez and Matthew McConaughey romantic comedy. Who wants that? Trade!!! Take it to the bedroom nice and slow bubeleh…
LEO (Kim Cattrall)
July 23-August 22
You're a roaring lion at the beginning of the week, so don't wait — rourrrr. Who needs plans when you've got such a spontaneous nature? During the end of the week though, you're going to have to take a closer look at all things. Observe. You will learn and go a LONG way baby.
VIRGO (Heidi Montag)
August 23-September 22
The stars are ready, willing and able to give it up to you. Carve out time to carve yourself in. If you are complaining that you aren't getting ass, then it's about time you grabbed someone's ass with you to a cafe on Monday or Tuesday night. Around Wednesday or Thursday, though, it's time to make sure your priorities line up with a certain someone's if you want "things" to last.
LIBRA (Kim Kardashian)
September 23-October 22
What's the BIG idea? Get yours OUT there as the week begins and see what will happen! Keep a BIG-picture perspective on Wednesday and if you ask you shall receive!
SCORPIO (Nicolette Sheridan)
October 23 – November 21
Work on your sexual endevours right away so that by Wednesday and Thursday it won't be hard sorting out your true feelings. Take time out…rest up — so that you'll want to be ready for the excitement the stars have coming on Friday.
SAGITTARIUS (Britney Spears)
November 22-December 21
Follow your love organ, and I am not talking about your heart. Your sexual instincts are right on as the week gets going if you just OPEN yourself up to your DEEPEST wisdom. The thing is, you're wide open to a number of different directions now. And there's no way to go wrong.
CAPRICORN (Sienna Miller)
December 22-January 19
You might wanna forget about whatever expectations you've got — not to mention plans you've made. The stars and sex shop have other things in store, and while you may not be sure where things are going, don't panic. The energy coming around the end of the week, favors explorations in some pretty sweet and tasty directions.
AQUARIUS (Paris Hilton)
January 20-February 18
You've got the kind of soul insight at the beginning of the week. Use it while you've got it! Taking it personally is tempting, but don't make assumptions. Getting physically active will help you be emotionally balanced. If there's a problem just say "screw it" and you should.
PISCES (Sharon Stone)
February 19-March 20
If you've got any kind of sexually-related stuff going on in the work environment at the beginning of the week, be smart about it and be particularly aware. Christie Brinkley's husband got himself in a big mess. Who ever is looking over your shoulder is more aroused than the person looking under your skirt.
ARIES (Jenna Jameson)
March 21-April 19
You've got balls as the week gets going and when combined with that nice round tuchis of yours, the results can only mean great things for your love life. Friday brings a dramatic rush of energy that continues all through the weekend — the kind that leads to amazing ecstasy.
TAURUS (Brooke Hogan)
April 20-May 20
Cues and clues about life and love are all over the place and so are you, you meshugener!!. You need to calm down. If someone tries to tie you down, don't object….but have fun while you're at it.
GEMINI (Mary Kate Olsen)
May 21-June 21
Your best asset isn't your ass, but it is that BIG, sexy brain of yours. Use it, abuse it. Get your partner to his/her knees and sing a Justin Timberlake melody, ala "I just love your brain."
What soap is to the body, laughter is to the soul.