Posted by: La Coacha on Wednesday, December 17th, 2008 to Chisme
Last night, December 16, 2008, Â I went to the Hugh Hefner book signing at Barnes & Noble at the Grove. El Hugo Hefner has a new book out, Playboy: The Complete Centerfolds written by Steven Watts (I love how he needs an author when the book is about coochies …600 mamis bearing it all. More than half of which are DEAD). I was soooo excited to finally meet Hugo. Aries men love me.
La Coacha usually get press passes to events, so I was surprised when I didn't get a call back. We decided to go anyways, because I love the Aries and the Girls Next Door!
He was there with his 19-jeer-old twins, La Karissa y La Kristina Shannon and a new girl named Crystal Harris. The girls were so cute with their bleashed hair and orange skin. They sort of reminded me of the fembots in Austin Powers where their tits are undercover guns. They were protecting Papi Hugo. 
Look at this pic, don't their heads look like calamari?
Unlike last week's Lindsay Lohan Event, Hugh Hefner's turnout was pretty big. There was a huge line from the second floor that extended to the third. PEEMP!!! And he was sooo nice to his fans. He tried to sign everyone's book, pero papi got tired. He is only 82 jeers old. 
There were a lot of men, obviously, and even some "bunnies" who didn't realize they had expiration dates? 
There were even people who brought their KIDS along!!! WTF????
I tried to follow the rules. So in order to meet the Aries, I had to purchase one of his books. No problem! So, I stood in line to buy the book and the employees told me they were completely sold out…They had several copies of the book on display and were even handing it out to some people pero not to La Coacha. Por que??? I am always treated like a criminal! Well, if looks could kill, then I would be a murderer, jaja! I wasn't able to get a book signed or to take a picture with Hugo pero I waited to talk to him until the end.
Hugo's Playboy assistant came up to me and said, "So what joo got for the boss?".  I gave him a photochopped pic of my face on Kim Kardashian's body and said, "This is for Hugo to yack off to".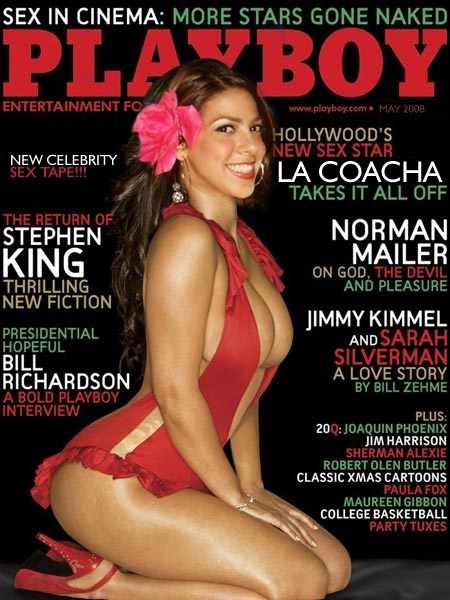 I waited in my hot pink heels until the end. While leaving the event, Hugh LOOKED AT ME, BLEW ME A KISS AND TOLD ME THAT I WAS BEAUTIFUL! AWWWW!!!  We followed (stalked?) Hugh all the way to his limo. ONE WAY OR THE OTHER I'M GONNA FIND JOO, I'M GONNA GET JOO GET JOO GET JOO!
AND GUESS WHAT???? AFTER ALL THAT TROUBLE TO EVEN TRY TO GET A PICTURE WITH HIM…I CAME HOME, AND READ MY EMAILS AND SAW….. GET THIS…………AN EMAIL I DIDN'T READ BEFORE I CAME TO THE EVENT!!!
IT WROTE, " LA COACHA. WE WOULD LOVE TO GIVE A PRESS PASS FOR THE HUGH HEFNER SIGNING."
AWWWWWW. After all that trouble. I could have had a full on interview with Hughie. Man, it's times like these I wish I had a blackberry or iphone, so that when I am not near a computer I can be informed of an email =( Â Â 
Is ok, Is oright, because Hugo…ONE DAY, I"M GONNA FIND JOO, I'M GONNA GET JOO, GET JOO, GET JOO!!!!!