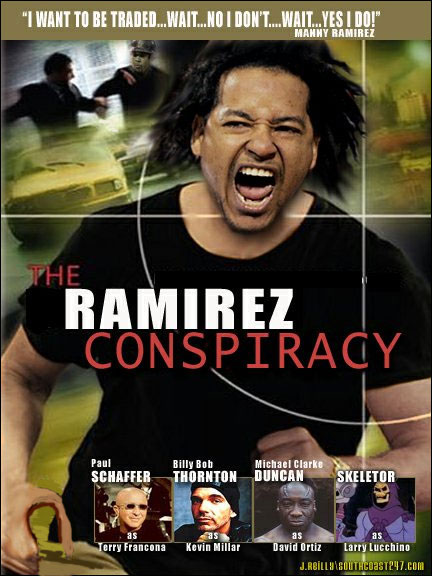 Manny Ramirez was suspended for 50 games by Major League Baseball today due to a droga escandalo! Ramirez said he did not take steroids and was given medication by a doctor that contained a banned substance.
Supposedly Manny juiced HCG, human chorionic gonadotropin. I don't know what that means. HCG is prescribed to stimulate female fertility and testosterone production in men and to treat delayed puberty in boys. I still don't know what that means. 
The 36-jeer-old Gemini apologized to the Dodgers and fans saying:
"Recently, I saw a physician for a personal health issue. He gave me a medication, not a steroid, which he thought was OK to give me. Unfortunately, the medication was banned under our drug policy. Under the policy that mistake is now my responsibility. I have been advised not to say anything more for now. I do want to say one other thing; I've taken and passed about 15 drug tests over the past five seasons."
Ramirez's suspension began Thursday. Ramirez will lose almost $8 MILLION of his $25 million salary. Jesu Christo!
Losing Ramirez to suspension could be a huge blow financially for the Dodgers. His 21-8 record is the best in the major league.  El Lay even renamed a section of seats in left field at Dodger Stadium "Mannywood" in his honor.
Oh well…IS HOLLYWOOOOOD!