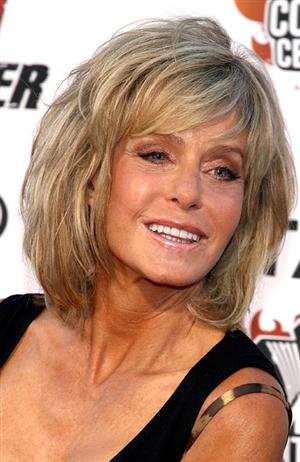 Jesterday, La Aquarius' publicist issued a Twitter post stating that La Fawcett was close to death and had been given her last rites.
About half an hour ago, Farrah passed away at 9:28 AM PST in Saint Yon's Health Center inSanta Monica, CA.
Our favorite Sharlie's Angel was surrounded by familia, amigos y a Catholic priest. 
Fawcett was diagnosed con painful anal cancer in 2006. Four months later, on her 60th birthday, Fawcett was reported cancer free.Fawcett said in a statement, "This is an extraordinarily happy day for me and my family. I hope that my news might offer some level of inspiration to others who unfortunately must continue to fight the disease."
Pero, Less than four months later, in May 2007, they found the cancer again. And in the past 2 jeers, La Farrah has been going through excrootiating pain, pobrecita. 
Aquarius died at the age of 62, pero we will always remember her as the sexy Sharlie's Angel, weed a big smile on her face =)
R.I.P. Mamita, no more pain.