What a wonderful day! I'm on my second mimosa and life just doesn't get any better….I thought I'd give you guys an extra spicy Whore-o-scope for today, I smell love and KY in the air, and I know you little rabbits are going to be at it soon enough so here's a little something to get you titillated.

CANCER (Lindsay Lohan)
June 22-July 22
The kind of energy you've got going is excellent for exploring matters of the vagina and or penis. Toward the end of the week you could cum across as a bit cutting. Relax Lorena Bobitt. Know when to soften up…Here's a clue… it shouldn't be during sex!
LEO (Kim Cattrall)
July 23-August 22
Shaking your ass is one thing. Being emotionally shaken by someone is another thing. It's unlikely that a certain someone is purposefully messing with you. How about messing with them baby and asking instead of ASSuming?
VIRGO (Heidi Montag)
August 23-September 22
When it cums to romance, you always seem a bit tossed. Screw your tossed emotions and bend over for a tossed salad!
LIBRA (Kim Kardashian)
September 23-October 22
Instead of something holding you down emotionally, why don't you just wind down and let someone hold you down with handcuffs? That fresh alignment of good head leaves you free to enjoy what the stars are sending!
SCORPIO (Nicolette Sheridan)
October 23 – November 21
Starting today it won't so much be about grabbing opportunities but more about grabbing asses. Relationships are tricky so just go to bedroom to save it.
SAGITTARIUS (Britney Spears)
November 22-December 21
Got romance on your mind this morning? Too bad baby, there isn't any! As for the sex… you better keep it there. A marriage certificate doesn't make two become one, penetration does!
CAPRICORN (Sienna Miller)
December 22-January 19
Whether you're in a relationship or looking for love, you're screwed! Sadly, NOT LITERALLY. The stars want you to finish your chores and meet potential lovers halfway. But your workaholic no-use ass won't commit to sex, and even if you did you would stop halfway. Figure it out baby, there's hope if you just learn how to spread 'em.
AQUARIUS (Paris Hilton)
January 20-February 18
When it cums to romance, you give somebody a jolt with your amazing spark!!! And if Friday and Saturday seem lower-voltage, relax — and listen up while you're going at it. What you learn now could cum into play on Sunday.
PISCES (Sharon Stone)
February 19-March 20
You've got a stellar opportunity for DEEPER, sweeter things as the week progresses! Use those "powers" between you and others. Just be sure you're listening to your sex organ and keeping your eyes open. No one could PUT IT quite the way you do.
ARIES (Jenna Jameson)
March 21-April 19
You might be romantically ready, willing and able at the beginning of the week, but the stars just aren't giving love the green light right now. Be smart will ya? Save your big moves for the weekend when the universe not only has your back but also gives you back!!!
TAURUS (Brooke Hogan)
April 20-May 20
Whether it's something big or small, suffering is not the way to handle it. Work it through! Then you'll be ready when sex offers you a choice around Thursday. Hint from the stars: The perfect thing isn't always the best. Learn to love all shapes and sizes. I know…it's HARD.
GEMINI (Mary Kate Olsen)
May 21-June 21
It's work before play at the beginning of the week. You might wanna keep that big idea as just that — an idea — until the weekend when putting that BIG idea into action. It's likely to go much smoother, just add a little K-Y.
Here is some Vintage Kim Cattrall to kick start the first day of Leo! I used to tutor her in Kegel exercises years ago, if you've seen her vagina, you'll appreciate my work.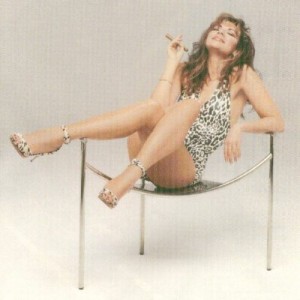 If you can't go over, you must go under.