Posted by: La Coacha on Tuesday, October 6th, 2009 to ¡Qué Cute!
 Ebery once in a while, La Coacha gets hit on by a brotha. Tooday's winner is a morenito who emailed me his picture and a poem. I copied and pasted it. What joo guys think? Should Coacha dump her boyfren for this guy?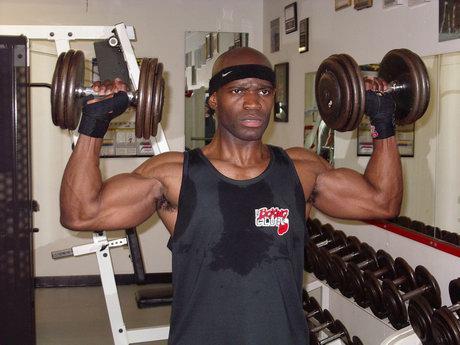 Most men struggle with this….
Many leave clinging their fists…..
Some survive from being dissed
Few don't even make the list
When they see a woman as sexy as you
They don't know what to say or do
We stare, then drool; not having a clue
The proper way to approach you
 Rejection of course pops in our mind
No way this woman so lovely and fine
Would even think to give me the time
I must be crazy to imagine her mine!!
 How can I say it without sounding gay
No pick-up lines; doesn't work anyway
She looks at me but I shy away
I think she's coming over this way!
 Time is ticking, the moment of truth
She stands next to me, right by the booth
I'm smiling so hard, I think I crack a tooth
I'm damn near 40 but I feel like a youth!
I clear my throat as I'm thinking what to say
"Hi!" "I'm Ellis!" "How you doing today?"
"Can I offer you a drink?" "What's that Alize?"
"Wanna grab some seats?" or "Dance the night away?"
Before I could speak, you done came and gone
My shy ass waited far too long
Overcome with fear; cuz my game wasn't strong
And now I'm right back to square one; alone!
I've learned a valuable lesson that day!
To man up at the plate and not turn away!
Get in the game, have fun and play!
It's not what you think, its what you say! 
Hope you like this poem I've written. Hoping you'll understand and don't be shy and give a brother a try…..you might even find me a cool guy! 
Just me,
E